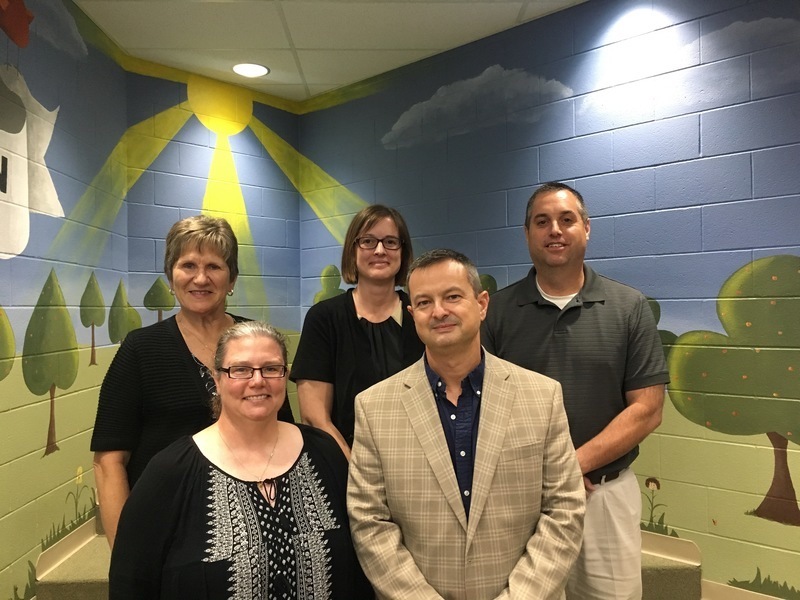 Front Row: Stephanie Karacson-Mazur, Gavin Methvin. Back Row: Minda Jones, Jennifer Caryer
Jennifer Caryer is a 1995 graduate of Hicksville Schools. She and her husband, Joe, are longtime residents of Hicksville. They have three children, Claire, a graduate of Hicksville Schools and University of Toledo , Andrew a graduate of Hicksville schools and a student at University of Toledo and Charlie a current student at Hicksville schools. Jennifer is employed at Defiance County Clerk of Courts. She is a member of First Church of Christ, Hicksville and a Johnson Memorial Library Friends board member. Jennifer enjoys being able to serve the students, parents, and residents of the Hicksville Community as a board member.
Craig Eiden currently serves as the board vice president. Craig is a 1990 graduate of Miller City High School. He earned his bachelor's degree in Criminal Justice. He has worked for the past 18 years at the Corrections Center of Northwest Ohio (CCNO) as a shift commander, as well as the head of the Special Response Team. His wife, Tonya, is a 1991 graduate from Wayne Trace High School. She graduated with a bachelor's degree in Sociology from Bowling Green State University in 1995. She later attended the University of Saint Francis for her master's degree, and is now a licensed mental health therapist. She is the director of a satellite office for a community mental health center in Indiana. Craig and Tonya have two children, Eric and Nadiah, who are both in kindergarten. Craig stated, "I intend to be an active board member. I want to be involved with the students, faculty, administration, and board members to further promote the great opportunities that the Hicksville School has to offer."
Minda Jones is a graduate of Hicksville High School and received her Bachelor's and Masters of Education degrees from Indiana University at IPFW. Minda retired in 2015 after teaching one year in Antwerp and 35 years in Hicksville. She organized the school's recycling program for 20 years, and was involved in many other school functions. Minda stated, "The children and families that I was able to work with through the years will always be such a blessing. I thoroughly loved being a part of the Hicksville Schools." Mrs. Jones is married to Ron Jones and they have three children, Melissa (Todd) Smith, Katina (Jason) Peters, and Philip (Mandy) Jones. Her favorite past-time is going to visit their nine grandchildren and watch them participate in their many activities. Minda is a member of Blackhawk Ministries in Fort Wayne where she is active in the Children's and Music Ministries. She also is involved with Bible Study Fellowship. This is Minda's first term on the school board. She is excited to be able to continue working with the excellent Hicksville School staff and board to improve student achievement and serve our community by being good financial stewards.
Stephanie Karacson-Mazur has lived in Hicksville for most of her life, with the exception of two years in the Peace Corps in Poland, where she met her husband, Michal Mazur, a banker. They have two daughters, Mijana and Reyna. She attends St. Michael Catholic Church in Hicksville, where she teaches CCD and is the youth group leader. Steph and her husband run Helping Hands, a non-profit ministry that aids cancer patients. Steph also serves on the Hicksville Park Board and the executive board of the Hicksville Community Service Center. Steph is an English teacher at Bryan High School, where she is an FCA huddle leader and the advisor of Interact.