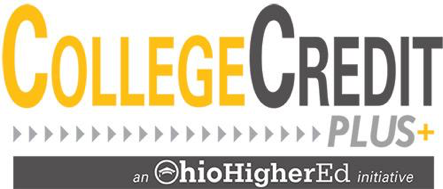 Updated Information as of February 11, 2016
What is College Credit Plus?
Replaces Ohio's PSEO and all dual enrollment programs previously governed by ORC Chapter 3365 and puts them under one new set of guidelines

Requires that students must be enrolled in both college and high school and that the student must earn transcripted college and high school credit

CCP does not govern articulated credit agreements
When will College Credit Plus go into effect?
Operational for the 2015/2016 school year

Made law on June 16, 2014 through signing of HB 487
Who has to participate in CCP?
All public districts and Institutions of Higher Education (IHE) must participate

All nonpublic secondary and postsecondary schools may participate

No eligible public school student may be denied participation by either their district or a public IHE
What requirements must districts meet to participate in CCP?
Must post information about CCP on our school website

Must provide program information prior to March 1st to students

Must provide counseling services to students and parents prior to participating in CCP that includes: program eligibility, process for granting credit, financial arrangements for tuition, books & fees, available support services, scheduling, pros and cons, academic and social responsibilities, information about college counseling services and provide CCP standard packet.

Must annually coordinate with each public and participating private IHE within 30 miles to present a dedicated CCP even to interested students and parents prior to March 30th. The CCP event may include multiple high schools within a district and multiple districts so long as parents and students have an opportunity to ask questions and get information from their high school and from representatives from all colleges within 30 miles.

Must develop two pathways to earn credit in coordination with at least one partnering IHE, one equaling 15 credits, and one equaling 30 credits by the time they graduate high school.
How many credit hours can a student earn each year?
Schools must verify that a student is not taking more than 30 college credit hours per academic year and not more than 120 college credit hours in high school.

Schools must assure a student does not exceed full-time status. This is calculated as follows:

- Determine student's number of high school ONLY units

- Multiply that number by 3, and

- Subtract the result from 30.

- That number is the total number of college credits that a CCP student may earn that academic year.
How does a student become eligible to participate?
Students enrolling in CCP must…

- Receive counseling from the high school on participation in the program. The counseling session may be incorporated into the annual meeting.

- Sign an "Intent to Participate Form" prior to April 1st of each school year.

Students must apply to an IHE in accordance with the IHE's established admission standards. In conjunction with those standards and prior to making a final admission decision, the IHE shall evaluate the student against one of the standards identified in the "Uniform Statewide Standards for Remediation-Free Status."

- IHE must admit students using the same criteria for all admission decisions and cannot create separate standards for high school students participating in CCP.

- Students cannot be eligible for CCP if placed at the remedial level for Math and English.
What enrollment options do students have under CCP?
Students still have the following enrollment options as under the old PSEO system

- Option A: Student pays and can elect to only receive college credit.

- Option B: Student receives both college and high school credit and the school pays for the course.
What students cannot participate in CCP?
Suspended or expelled students are ineligible

Students who try to enroll in more than the allowable credits to receive toward graduation.

- First CCP enrollment = 9th eligible for 4 years, 10th eligible for 3 years, 11th eligible for 2 years, 12th eligible for 1 year.

- This prevents students from trying to extend high school or those not graduating on time to take advantage of CCP.
What do CCP courses look like?
CCP classes can be delivered in the following ways:

- Taken on the college campus by a college instructor

- Taken in the high school by a college instructor

- Taken in the high school by an adjunct high school instructor

- Taken online by a college instructor or adjunct high school instructor

Classes must be nonsectarian and non-remedial

Must apply toward a degree or professional certificate

Must be taught by instructors who meet BOR academic credential requirements

Must be weighted the same as any honors courses within the subject area.
What qualifications must a high school teacher have in order to teach CCP courses?
Must have a Master's Degree in that content area

Must have any Master's Degree plus 18 credit hours in their content

Must be approved as an adjunct instructor from an IHE
What is the calculation for converting CCP credit into high school credit?
Completion of 3, 4, or 5 credit course through CCP now equates to 1 credit at the high school, meaning a student can earn their entire years worth of credit at the high school by only completing one semester course at the IHE.

- Completion of a 2 hours course would equate to 0.67 credits

- Completion of a 1 hour course would equate to 0.33 credits
What can the district do with regard to failed CCP courses?
Districts can still hold a student responsible for repaying the district back the invested cost into a failed CCP course, regardless of the delivery method.

Once a student surpasses the drop date, the IHE is to be compensated for the course.
What expectations do students participating in CCP have in taking state assessments?
Students enrolled in a CCP course that is taken place of a course that is tested must still take the state prescribed PBA and EOY assessments for that course, regardless of whether that course is consistent with the content and standards of that course (i.e. a sophomore taking Composition 1 in place of English 2 must still take the English 2 assessment even though the Composition course did not cover all standards for the assessment).
Students must meet ALL criteria in order to participate in CCP. Failure to meet any of the above criteria will disqualify a student from participation in CCP for the following school year. The deadlines and expectations outlined are non-negotiable and exceptions will not be made for students who fail to comply. Students who are disqualified from participation may re-qualify the following year:
Must be a full-time student enrolled in Hicksville Exempted Village Schools. Full-time enrollment is met through participation in a minimum of 5 credits of coursework. Full-time students must meet all state testing and graduation requirements.

Must meet the regular admissions requirements and be accepted by a participating IHE.

Must attend a MANDATORY meeting with a parent/guardian each year prior to the year of participation. This will constitute as the required counseling session Hicksville Middle/ High School is required by law to provide.

Must submit a signed "CCP Intent to Participate" form by April 1st of each year prior to the year of participation.

Must complete all enrollment requirements of the IHE and have a completed college schedule submitted to the Hicksville Middle/High School CCP counselor by May 15th (for Fall and Summer semester courses) and December 15th (for Spring semester courses) of each year prior to the year of participation.
Qualified students are eligible to take any available courses listed in the IHE course catalog so long as they are transferrable and related to a degree of study. Currently, Hicksville Exempted Village Schools maintains an active partnership with Northwest State Community College and others.
Students may be awarded high school credit upon successful completion of the college coursework (so long as it meets the requirements above) and will be awarded the letter grade assigned by the IHE. Grades and credit will be listed on the high school transcript and factored into the High School GPA and class rank. (Should a student choose to only receive college credit, Option A: they will be held financially responsible for that class(es) but still cannot go above the high school credit ceiling).
Failure or Non-Completion of Courses: Students who fail or do not complete any CCP course will be held financially responsible for the full cost of the course. Failure or non-completion of college courses will negatively impact a student's high school academic standing and can potentially negatively impact their future college academic standing. Students will be prohibited from walking through graduation ceremonies and receiving their diploma until all costs due to the school have been remitted to Hicksville Exempted Village Schools.
Transportation: Students are responsible for transporting themselves to and from any college courses taken off of school grounds.
Support Services: As a participant in CCP, students are considered to be a student of the IHE and thus have access to all support services available to the student from the IHE. Students will be encouraged to take advantage of these services including academic tutoring, campus libraries, computer labs, career services, transfer coordinators, etc.
Scheduling: Students are responsible for working with their advisor assigned by the IHE to schedule their college coursework. Upon completion of the college schedule, Hicksville Exempted Village School CCP Counselor will work with students to align their high school schedule accordingly. Schedules for Fall and Summer semester(s) must be submitted by May 15th and for Spring semester must be submitted by December 15th of the year prior to participation.
Point of Contact: Questions regarding the CCP program should be directed to Mike Blue, School Counselor, at bluem@hicksvilleschools.org or by calling 419-542-7636.