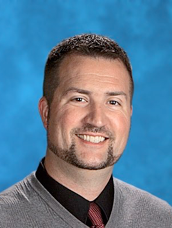 I am truly honored to be the Principal at Hicksville Middle School & High School. As an alumnus, parent, and lifelong resident of Hicksville, returning to Hicksville MS/HS has been and continues to be an exciting opportunity.
Hicksville MS/HS is a small rural school in Northwest Ohio with a student population of approximately 440 students in grades 7 – 12. Academically we implement the common core aligned with the Ohio Department of Education curriculum. Athletically, we are competitive members of the Green Meadows Conference and the Ohio High School Athletic Association.
All staff members at HEVS are deeply committed to making a positive difference in the lives of students and look to continue to maintain high academic and citizenship expectations for our students. Our students will continue to be expected to perform in the classroom, participate in co-curricular activities and display responsible citizenship at school and in the community. I am asking each student to make a commitment to having ACES PRIDE (Personal Responsibility In Daily Efforts) by being active participants in his/her learning and acting responsibly as an individual within our learning community. Doing so will enable all to have a successful and enjoyable school year.
Students, I encourage you to do the following so you can be successful during your time at HMS/HHS:
Contribute to our school community in a collaborative, respectful manner. Get involved!

Pose questions, examine possibilities, and challenge yourself to find solutions.

Surround yourself with positive people.

Communicate with others in a respectful and meaningful way.

Make positive choices related to physical and mental wellness.
Parents, please make time to:
Ask your student(s) specific questions about their day at school.

Access PowerSchool early and often. The Parent Portal will give you important information regarding your child's performance, attendance, demographic information and school activities.

Communicate with your child's teachers and staff members to establish a successful home/school connection.

Encourage your student(s) to get involved with one of the many clubs, activities and/or athletic teams.
We are looking forward to a positive, upbeat school year at HMS/HHS. I encourage all students to take pride in their school, stand up to bullying of any kind, and to avoid anything you know is not right. Remind yourself that you do not have to follow the crowd. Be yourself, and even when no one is watching, do the right thing. Parents, please help us by reinforcing school expectations at home. With your help, Hicksville MS/HS will continue to be a school in which every person feels respected, valued, encouraged, and challenged to achieve at the highest levels.
Our commitment to the students, families, and community of Hicksville is to provide a safe, positive, rigorous learning environment that will empower students to become creative problem solvers, critical thinkers, and inspired learners prepared for college, careers, and life in the twenty-first century.
Let's make this a year filled with passion, purpose, and positive memories!
Sincerely,
Jeffrey E. Slattery
Principal